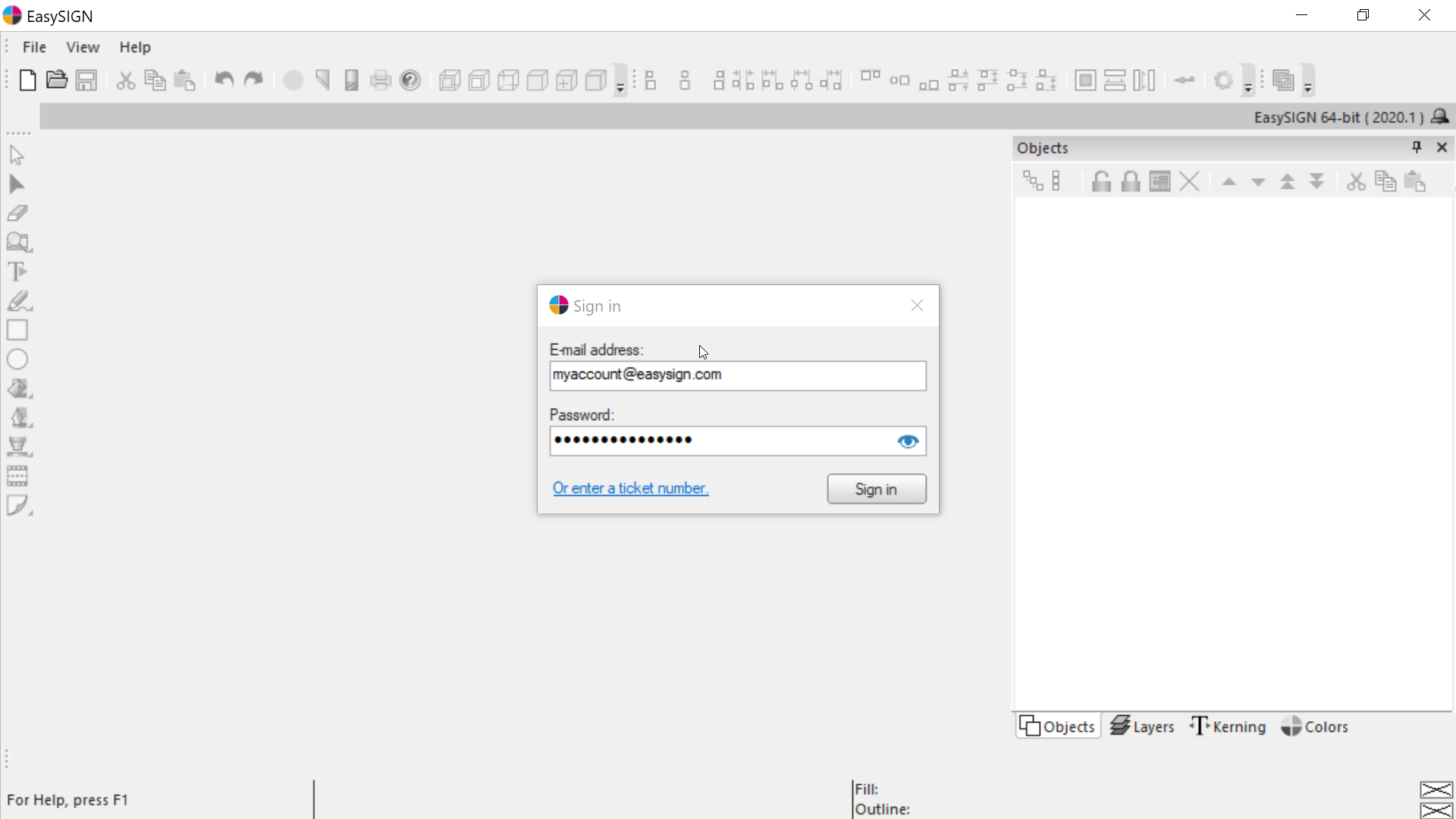 Let's make things easy! All new and renewed subscription licenses are automatically assigned to your online EasySIGN account. With this account, you can easily sign in to the EasySIGN software and just start working on your amazing projects.

Sign in
The sign in dialog will automatically pop up if you run EasySIGN for the very first time on your PC. Enter your email address and password, click 'sign in' and you're good to go! Otherwise, open EasySIGN and go to Help > Sign in to your account....
If you've lost your password, click here to request a new password.
If you've forgotten which email address you used to buy your EasySIGN license, get in touch with support.
Manage account
Help > Manage account....
In the account dialog click 'Manage EasySIGN account' to go to your account on easysign.com, where you can change your password and manage your subscriptions.
To sign out of EasySIGN, click 'Sign out'. Keep in mind that once you've signed out of EasySIGN, EasySIGN will automatically stop working if you have no other licenses.
Software tickets
To activate software tickets, hit 'Or enter a software ticket' in the sign-in dialog, or go to Help > Enter Ticket....
Click 'Next'
Select "I have a ticket" and click 'Next'
Again, select "I have a ticket" and click 'Next'
Enter the license ticket and click 'Next'
One moment, the license is being activated...
And done! Click 'Finish' and restart EasySIGN to start working
From January 2020, we don't use software tickets anymore for our regular licenses. If you feel like a software ticket is still the most suitable solution for you, don't hesitate to contact us at support@easysign.com. We'd be happy to create one for you!